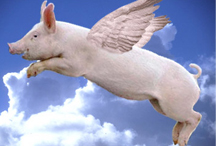 Who said it?
'The idea of flying bacon might seem appealing to some, but it's quite frightening how limited consumer knowledge on meat is' - As National Butchers' Week gets underway, Ed Beddington, the editor of Meat Trades Journal, says people are ignorant when it comes to butchers' shops. Apparently, 17% of adults think pig wings exist or that you can buy a leg of liver.
Published: 15 Mar 2011
Last Updated: 09 Oct 2013
.
Find this article useful?
Get more great articles like this in your inbox every lunchtime