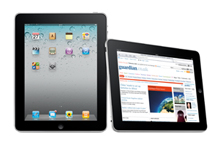 Who said it?
'I've got a blanket, my iPad, and some books and magazines to read' - Apple fanatic Jewels Lewis came prepared for the 33 hour wait ahead of him for the iPad 2. The iPad 2 goes on sale at 5pm this afternoon, and Lewis started queuing at 7.30am yesterday. But at least he can say he's first in line, having been fourth last year.
Published: 25 Mar 2011
Last Updated: 09 Oct 2013
.
Find this article useful?
Get more great articles like this in your inbox every lunchtime