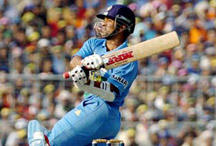 Who said it?
"I have applied for emergency leave, claiming that I have suddenly realised that I'm scared of heights and have to see a therapist." The Times of India reports on one of the more imaginative excuses Indians have come up with to miss work today in order to watch their country play Pakistan in the Cricket World Cup semi-final. And the best bit? This is a pilot talking...
Published: 30 Mar 2011
Last Updated: 09 Oct 2013
--

Find this article useful?
Get more great articles like this in your inbox every lunchtime