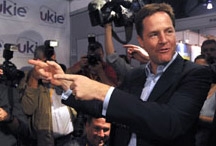 Who said it?
'I'm a human being, I'm not a punchbag - I've got feelings' - Nick Clegg exposes his vulnerable side in an interview in the New Statesman. He also tells interviewer Jemima Khan that he cries regularly to music.
Published: 07 Apr 2011
Last Updated: 09 Oct 2013
.
Find this article useful?
Get more great articles like this in your inbox every lunchtime