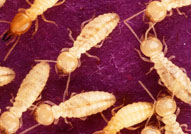 Who said it?
'As it was the bank's fault, it will bear the loss caused due to termites' - State Bank of India chief general manager Abhay Singh tells the Press Trust of India that bank staff are to blame for allowing termites to eat their way through 10 million rupees (£137,000) stored in a strongroom. Guess they've got expensive taste...
Published: 27 Apr 2011
Last Updated: 09 Oct 2013
.
Find this article useful?
Get more great articles like this in your inbox every lunchtime