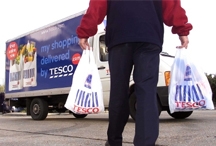 Who said it?
'I'm not critical, I just think it's difficult to be a new boy. Tesco is God Almighty in England. But you come into Southern California and you have Trader Joe's and CostCo - that's tough competition' - Charlie Munger, vice-chairman of Berkshire Hathaway, which owns shares in Tesco, is doubtful that the UK retail giant will be a success in the US, reports the Telegraph.
Published: 03 May 2011
Last Updated: 09 Oct 2013
.
Find this article useful?
Get more great articles like this in your inbox every lunchtime