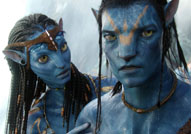 Who said it?
'The cinema experience is the wellspring of our entire business, regardless of what platforms we trickle down to. If the exhibitors are worried, I'm worried.' - Film director James Cameron joins more than 20 leading film-makers protesting against film studios' plan to launch an on-demand service, which will mean families can download films at home while the movie's still showing at cinemas.
Published: 04 May 2011
Last Updated: 09 Oct 2013
.
Find this article useful?
Get more great articles like this in your inbox every lunchtime