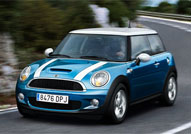 Who said it?
'There are more than 600,000 searches for BMW every month on eBay and BMW will now be able to access this existing, yet untapped customer base' - Angus McCarey, UK retail director at eBay, says BMW is keeping ahead of competitors by launching an internet shop on eBay - the first carmaker to open a store on the UK site.
Published: 09 May 2011
Last Updated: 09 Oct 2013
.
Find this article useful?
Get more great articles like this in your inbox every lunchtime