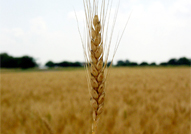 Who said it?
'The Government is talking about what it can do to help. But short of doing a rain dance, there's not much that can be done' - Jenny Bashford, water policy adviser for the National Union of Farmers, tells the Telegraph that an official state of drought is likely to be declared in East Anglia after a severe shortage of rain.
Published: 06 Jun 2011
Last Updated: 09 Oct 2013
.
Find this article useful?
Get more great articles like this in your inbox every lunchtime