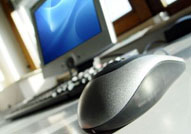 Who said it?
"This is not a year 2000 thing. Planes are not going to start falling out of the sky." Philip Sheldrake, a board member at non-profit group 6UK, tells the BBC that we shouldn't be alarmed about today's trial of the new IPv6 internet address system (introduced because we're running out of IPv4 addresses). Erm, ok then...
Published: 08 Jun 2011
Last Updated: 09 Oct 2013
--
Find this article useful?
Get more great articles like this in your inbox every lunchtime