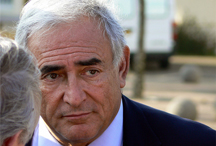 Who said it?
'There's a lot of information coming from different sources, which is implying that there's agreement between G8 countries about support for Madame Lagarde' - Kazakhstan's central bank governor Marchenko says the appointment of Christine Lagarde as head of the IMF is a done deal, in an interview with the Telegraph.
Published: 10 Jun 2011
Last Updated: 09 Oct 2013
.
Find this article useful?
Get more great articles like this in your inbox every lunchtime