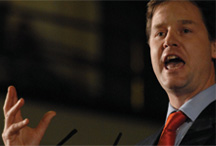 Who said it?
'In terms of real decentralisation, money talks.' Nick Clegg says local councils will be allowed to keep the money they take from business rates, rather than giving it back to the Treasury. The government hopes this will encourage cities to compete with each other to keep rates low and attract more firms to their area.
Published: 29 Jun 2011
Last Updated: 09 Oct 2013
.
Find this article useful?
Get more great articles like this in your inbox every lunchtime