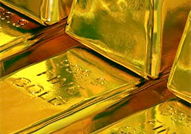 Who said it?
'Potential buyers will be encouraged by current prices and instant delivery as well as the attractive appearance of the precious metals in the gold vending machine' - The website for Gold to Go, the company behind the concept of gold vending machines - the first of which has just been installed in Britain - says it's an easy way to buy something which is such a safe investment.
Published: 01 Jul 2011
Last Updated: 09 Oct 2013
.
Find this article useful?
Get more great articles like this in your inbox every lunchtime