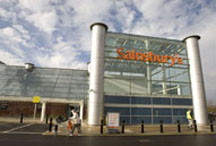 Who said it?
'I'll miss them but it's a good time to move on.' After 11 years as brand ambassador, Jamie Oliver cuts the apron strings as he ends his endorsement deal with Sainsbury's to spend more time on social projects. It's going to hurt, though - the deal was reportedly worth £1m a year to Oliver. Which could buy him a lot of organic carrots...
Published: 13 Jul 2011
Last Updated: 09 Oct 2013
.
Find this article useful?
Get more great articles like this in your inbox every lunchtime