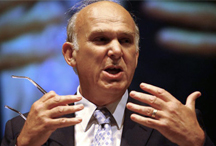 Who said it?
'Competition is the best antidote to the 'rip-off' culture ingrained in the banks.' Never one to hold back on outspoken views, Vince Cable says it should be made easier for customers to switch banks and for new institutions to enter the market to prevent people being ripped off.
Published: 26 Jul 2011
Last Updated: 09 Oct 2013
.
Find this article useful?
Get more great articles like this in your inbox every lunchtime