Whoops! Errant email sends Google shares into freefall
The fat finger strikes again. Google's shares have been suspended after a financial filing was accidentally sent out early, revealing a 20% plunge in profits.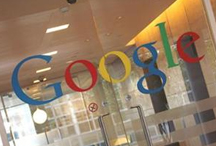 This mistaken missive, sent to the US stock market authorities, wiped $20bn from Google's share price in just a few hours. Wall Street reacted in horror to the revelation that Google's quarterly profits have dropped 20% to $2.18bn.
The unfinished filing didn't even contain a comforting message from Google CEO Larry Page to cushion the blow. It simply contained the words, 'PENDING LARRY QUOTE'. We bet that would have been the customary eloquent thriller.
Imagine Page's language after Google's stock tumbled 9% before trading was halted… Trading resumed after two and a half hours but shares recovered only slightly to close down 8%. As for the source of the fat finger, blame has been set squarely at the door of financial printers RR Donnely. Google issued a statement confirming that the filing was sent 'without authorisation'.

As for the offending release, the figures show that growth in Google's search revenues has slowed, hitting $11.5bn (£7bn), some $400m short of analysts' expectations. Across the third quarter, Google earned $9.03 per share, also down from analysts' forecasts of $10.63. The problem for Google is falling 'cost per click' revenues – the amount that the search giant earns from advertisers when people click on their adverts. Cost per click turnover is down 15% year on year and by 3% on the previous quarter.

When the official trading call eventually took place a few hours later, Page attempted to gloss over the figures, saying, 'We had a strong quarter. Revenue was up 45% year-on-year, and, at just fourteen years old, we cleared our first $14bn revenue quarter.' But will it be enough to soothe investors? If not, this will go down in history as one of the most expensive emails ever sent.