Who's arguing for the shortest building in the world?
'Building Tall' is the title of a conference organised by MEED Conferences, that fell out of the latest issue of Middle East Economic Digest, a weekly magazine published by EMAP Business.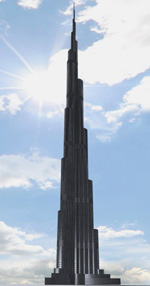 The promo says that 'high-rise culture is pushing the limits of innovation' in the Middle East region and beyond. The conference is an opportunity, it goes on, to 'address the issues around what makes an iconic structure'. It will include project updates on such mighty endeavours as the Burj Dubai - soon to be the tallest tower in the world. For $1850 delegates get the chance, it says, to meet and network with decision-makers such as architects, engineers, contractors, financiers etc.
The keynote talk is on none other than the Burj Dubai, and will be given by Greg Sang, executive director, EMAAR Properties, the company behind this mammoth project. This tower will have about 160 floors and is due to be completed by 2010. The buildings' architect Adrian Smith has said: "In Islamic architecture, this symbolises ascending towards the heavens."
The whole-day conference is dedicated to the theme of tallness. Has anyone thought to ask whether this is a desirable or even an attractive architectural aim? What about the virtues of shortness? While the world's best engineers and architects and others can make a big pile of money from the Gulf's rulers' desire to spend their countries' wealth in this way, perhaps there is someone out there who will argue for less excess in the name of sanity, the environment and, well, a general feeling of calmness (something our frenetic 365, 24/7 world culture could do with).
The tallest building syndrome is very loud, rather as if a roomful of people were shouting at one another - 'Mine's bigger than yours!'. You will be able to 'go to the world's finest restaurants. By elevator', brags the Burj Dubai website. Why would you want to?
The whole exercise is supposed to show that Dubai is at the apex of human endeavour and technological modernity. But aisde from the architectural and construction talent and effort (much of which is imported from around the world) this 'tall building' mania seems a very predictable response to the desire to build prestige in the world - and not particularly new or innovative.
Will the Gulf States fill all the floors and spaces they are building in these huge edifices? If not, it's a bit of a waste, isn't it?
Building Tall - Desiging and Engineering Tall Towers, MEED Conferences
30th-31st January 2007, Park Hyatt, Dubai
Review by Morice Mendoza