Why have 10,000 pubs closed in eight years?
A new report claims taxes, regulation and squeezed incomes have hit the industry hard.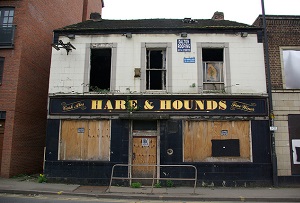 From the smoking ban to cheap supermarket booze and bland chain pubs, everyone's got a theory about why Britain's pub industry is in decline. Changing cultural attitudes have been a factor, but the long-term fall has been particularly marked in the last decade or so. There were 58,200 pubs in 2006 but just 48,000 today, a fall of 20%.

A new report from the Institute of Economic Affairs claims that 'a flurry of [Government] policies which have severely damaged the pub industry' over the past seven years are largely to blame. Author Christopher Snowdon said, 'British pubs may be suffering from long-term cultural shifts, but government policies have hugely exacerbated this trend.'

In particular, it sets its sights on the alcohol duty escalator, which has increased taxes on beer wine and spirits by 2% above inflation every year since 2008. Combined with 20% VAT and tighter real wages, the cost of a pint has never been so high.

In the two years after the smoking ban was introduced the proportion of pub-goers who were smokers fell from 54% to 40% and the number of visits smokers made to pubs declined by 74%, compared to 6% for non-smokers. In 2010, Goldman Sachs estimated the ban had reduced profits in a typical tenanted pub by 10%. But then some pub closures are probably a price worth paying for clean lungs.

The IEA does acknowledge the impact of cultural shifts, including a shrinking of the working class, the decline of heavy industry and an 18% decline in alcohol consumption since 2004, but it claims that these long-term trends could not be responsible for such rapid decline since 2006. Rising incomes, at least for some, and an increase in things to do besides going to the pub, have also hit the industry.

Some landlords cheered the recent parliamentary vote to do away with compulsory beer ties, the crowning achievement of a campaign which has sought to demonise big pub companies (otherwise known as pubcos). The report tries to debunk the 'myth' that pubcos are responsible for the decline, pointing out that independent pubs and tenanted pubs have been closing at roughly the same rate.
They do need to take some share of the blame though, Consumers would probably be more keen on going to the pub if the landlords had more incentives to provide a great service and more freedom to invest in both the selection of drinks and the environment of the pub itself. At the moment, most big chain pubs feel stuck in a stale beer-smelling past.
It would take a seismic force for the decline of the pubs to be turned around, and for that to happen the Government, landlords and, yes, pubcos, will all have to do their bit.