Why Amazon Fresh will struggle to topple the UK's big supermarkets
UPDATE: The ecommerce behemoth has finally announced it is launching a fresh grocery service in the UK, but it faces an uphill struggle.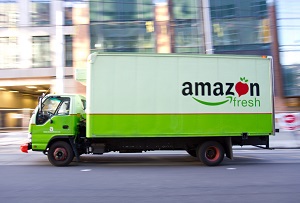 Britons love to shop online. People in the UK spend more on ecommerce transactions per head than any other major country in the world, according to eMarketer research from 2013. Four in five Brits bought something online in 2014, compared to just 22% in Italy.
But there's one area of retail that is still struggling to tempt people away from the high street and onto their computers – food. While online-only supermarket Ocado may have built itself a committed fanbase of suburban avocado munchers and is finally making some money, 95% of Britain's groceries are bought in bricks and mortar stores.
The online divisions of Britain's major listed supermarkets Tesco, Sainsbury's and Morrisons are all growing, but not exactly in leaps and bounds (Morrisons only got in on the action towards the end of 2013). Britain's fastest growing grocers, Lidl and Aldi, don't sell fresh food online at all. They may have shifted from big weekly shops to regular trips to the convenience store down the road but consumers are still hooked on bricks and mortar.