Why did Barclays sack 'Saint' Antony?
Unofficially beatified Barclays boss Antony Jenkins has been unceremoniously dumped by the board, under hard-nosed new chairman John McFarlane. How did his halo slip?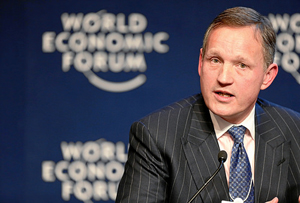 Antony Jenkins, the straight-laced ethics champion boss of Barclays, has been sacked by the board following a bust-up over strategy.
It's not often that such a big cheese gets the push in such a straightforward fashion. So what happened? In a nutshell, the board seems to have decided that it can't afford to wait for Jenkins' rehabilitation strategy to deliver, and that it would rather Barclays be a profitable bad guy that a penurious goodie two-shoes.

Here's the MT balance sheet on Jenkins' three years in the saddle.
The good
Share price: Under Jenkins Barclays' share-price has done respectably, up 70% since he took the helm back in the dark days post- Bob Diamond in 2012. That's quite a lot better than, for example Deutsche Bank, but some way short of UK rival (retail-only) Lloyds.

Reputation: Jenkins earned his nickname Saint Antony for the high ethical tone of his leadership, exhorting his staff to rediscover their moral compasses and endeavour to do the right thing rather than the most lucrative thing. His schoolmasterly approach was far from universally popular, but it certainly helped to rehabilitate one the UK's largest employers at a time when, reeling from the worst run of corporate disasters in its history, it badly needed some good news to deliver.

Brand: Considering that Barclays' rate-fixing skeletons have continued to rattle out of the closet (in May it received the biggest ever fine in UK bank history, £284m), Jenkins has done a decent job of keeping the Barclays brand buoyant, especially as an employer. Apprentice schemes, digital eagles, good works in Africa - arguably his real legacy to his successor (McFarlane will be chairman and CEO for now) is the social license to get back to banking business as usual.