Why big data is a blunt instrument
Much has been promised by the data scientists who say they understand the deeper meanings and patterns of mega numbers. Sceptics, including this one, say they have yet to deliver.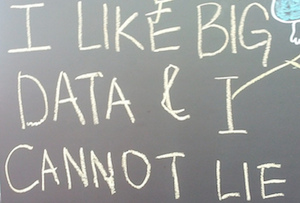 In recent years many claims have been made for data. Few of them have been small. Most things in the excitable and frothy world of data are not just big. They are mega. 'Big data' is the thing of the moment. If you don't get it you are so way behind the curve that your company will be missing out. Companies that are able to get a grip on big data will vanquish the data-incompetent. Soon, data, it is promised, will be as vital a factor in success as brand power, assets and human capital.
OK, nobody seems precisely sure what big data actually means beyond a sense that there is competitive advantage to be gained for everyone in the storage and analysis of vast amounts of impenetrable information. But never mind. For now big data is the new oil and, if you manage to strike it, you are quids in.
So what does it mean? Probably the most celebrated and frequently cited example of big data's power involves a pregnant teenager from Minneapolis and the US retail chain Target.