Why Blackberries are good for you
Crackberry addicts need not fear. Their addiction to the Blackberry is a good thing after all, claims investment media entrepreneur Haim Saban.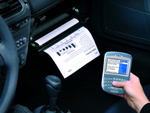 Saban is chairman of Saban Capital Group which has its headquarters in LA and offices in Europe and Israel. The Blackberry, says Saban, makes him and his other managers 'omnipresent' when otherwise they simply would not be able to be everywhere at once.
Saban prefers to receive the daily intake of 100-150 emails himself and reply to them all personally, all of which is made possible by the Blackberry. It is very motivating, he says, for staff to get a personal response from him and it gives him the direct control he wants.
It was for this reason that Saban was the first CEO to make Blackberries mandatory for his entire senior executive staff. The Blackberry lowers Saban's stress levels rather than raising them as many suggest because it enables him to take care of tasks straight away.
It only increases stress levels in those people who are 'continuously challenged', he says. You have to know when to switch it off, Saban says. In his case, it is turned off during the Jewish holidays. It does not need to be a contentious issue with your family either. In his case, he got around the problem by giving his wife a Blackberry. She likes it, he says, because now he can go out at night rather than spend the evening going through his e-mails.
Blackberry pluses
It enables you to stay in touch with your staff wherever you are
It gives you the ability to deal with issues immediately
It motivates staff because you contact them directly, not via a PA
It frees up your evenings for friends and family
Blackberry minus
It does not replace the emotional impact of face-to-face meetings
Source:
Crackberry, of course
Think: act, issue 8
Review by Morice Mendoza