Why businesses fall from grace
Pariahs argues that self-serving leaders combined with an omnipresent media are the cause of companies becoming outcasts, but this isn't always the case.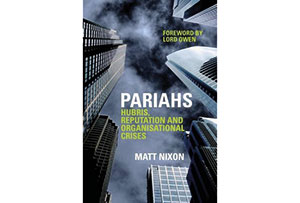 In July 2007, Fred Goodwin offered me a job. As I waited to meet him I was kindly given tea in an office literally bigger than the entire floor I shared with my then team and bosses. 'Won't Sir Fred mind me sitting in his office?' I asked. 'Oh, this isn't his office,' his PA replied, 'it's mine. His is much bigger and it overlooks the golf course.' I didn't take the job: even then I could see that RBS had succumbed to the red mist, which was a natural corollary of their ruthless determination to make the everyday Scottish bank the largest in the world.
Matt Nixon's book Pariahs describes similar traits in many organisations. Just like RBS, it's the hubris of the leaders that lands businesses in the brown sticky stuff. They build corporate cultures where only yes-men (and they usually are men) thrive. They do hard-nosed, unpopular things (tolerated while all is going well) but ambition overtakes business judgement and results begin to fail. Then the leaders' behaviour comes under ever increasing scrutiny from social media, 24-hour news and NGOs. These 21st-century vigilantes catch the attention of the traditional media and of customers or the wider public who turn nasty.
At this point, leaders are unwilling to apologise or change course. Instead, they resort to crisis management rather than undertake the major cathartic change that Nixon suggests would renew their organisation. Nemesis overtakes them: think BP under Tony Hayward or Tesco under Philip Clarke.