Why can't government be more like business?
With the bottom line their constant judge, companies chase efficiencies and cut costs with relentless determination. But can their methods win similarly positive results for public services?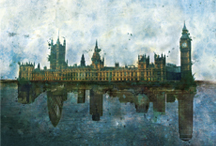 Just how business-like should government be? The question dates back at least as far as Margaret Thatcher's attempts to slim down the apparatus (and budget) of state in the 1980s, and it is currently dominating the thinking of our new coalition leaders, too.
For, as the UK labours to get out from under the burden of its historic deficit - set to hit £1trn next year - radical reform of the public sector is once again right at the top of the agenda. Cuts in public spending of the order of 30% to 40% over five years are expected in order to bring our enormous debt under control. And when it comes to the knotty problems of doing more for less, it's axiomatic these days that the soft, flabby and overmanned public sector needs some urgent lessons in efficiency from its lean, mean, fit-for-purpose oppo's in the private sector.
Who knows more about cost-cutting and efficiency savings, after all - Whitehall bureaucrats, whose profligacy is legendary and whose status is measured by the size of their budgets, or captains of industry, for whom every penny spent on overhead is one less to invest or put in the bank?