Why your company can be both responsible and successful
Social enterprises may exist expressly to change the world, but the idea that good works can lead to greater profits for any business is ultimately more powerful.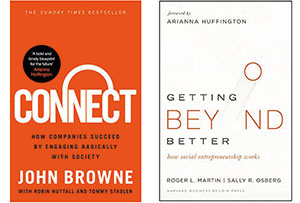 If a book persuades one more person to use their creativity, insight and entrepreneurial skills to change the world for the better, then we should shout from the rooftops about it - and Getting Beyond Better is littered with stories of good people doing just that.
It is well researched and clearly written, defining social entrepreneurism, how it works, and how we might do more of it. The authors know their stuff. Through their experience, they have been able to draw out some fascnating insights into what makes a social entrepreneur tick. However I did become frustrated while reading it.
The social sector (charity in its broadest sense) has been littered since the beginning of time with ballsy, creative, game-changing people who make a difference. Yes, some of these have nicked a few ideas from business; maybe (shock horror) they were even a bit entrepreneurial. So why do we need to write a book to define whether they are or aren't social entrepreneurs, and does it really matter what they are called?