Why dodgy printers cost Eu663bn a year
In these torrid times, the last thing you want to be doing is squandering a fortune on printing...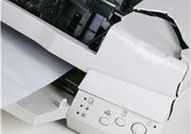 According to new research from Canon, dodgy printers and silly print strategies are causing so much downtime that every European business is wasting about €17,000 a year on the problem – equivalent to a total drop in output of about €663bn. At a time when most businesses are looking to retrench and cut costs in order to see out the downturn, it seems that printer costs are still going unnoticed. And that's bad news for the environment, as well as your bottom line…
Canon commissioned ICM Research to survey more than 3,000 managers across 19 European countries, all of whom had responsibility for printing within their organisation. And the consensus view was that our lackadaisical attitude to printing is costing our companies a fortune. For instance, nearly three-quarters of respondents said their printer broke at least once a month, while 30% reported more than six faults – yet 40% typically ignore the problem in the hope it goes away. This wastes everyone's time – and if you throw in the 160 hours a year IT support staff spend fixing your machines (about one-twelfth of their total time) rather than doing something more useful (or sitting in the basement playing Doom), you can see how the opportunity cost adds up.
However, there's also the cost to the planet to think about. Although the majority of printer buyers insist environmental considerations are just as important to their decision as financial ones, the rest of us seem to have a slightly ambivalent attitude to printing. Nearly 70% of UK respondents think that adopting more effective print strategies – like energy-saving settings and double-sided printing – would help the environment, but not many of us can seemingly be bothered to do it. Less than half of the companies surveyed actually have energy-saving printers, while three-quarters of us never print on the other side of the page.