Why don't we value non-conformists in business?
If you aspire to be a change-maker, Originals has some refreshing advice. But why can't organisations make it easier for mavericks?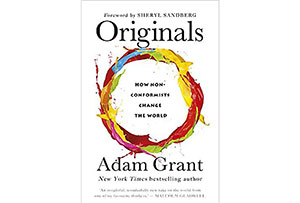 There are two routes to achievement,' the author notes, 'conformity or originality'. From where I am standing, it seems that the rewards of conformity are declining rapidly; there are more and more people available who are willing and able to do what is expected of them. And that is before you even consider the impact of machines ...
So I'd definitely bet on originality over conformity. But being a successful original is hard. It is one of the great virtues of the book that it recognises that originality, while more and more necessary to the future of organisations, is still very often not well-received there.
The examples are refreshingly varied, and aren't limited to business. Classics like Martin Luther King and the CIA get extensive coverage, while Facebook gets none (despite Sheryl Sandberg writing the introduction). It is good to read something about innovation which doesn't make the assumption that the world started in Silicon Valley, in about 1990, and that nothing relevant happened before then or is happening anywhere else.