Why Drucker is more relevant than ever
PF Drucker was arguably the foremost thinker on management and business of the 20th century. Now, at the third annual conference in his name, Stefan Stern finds we need him as much as ever.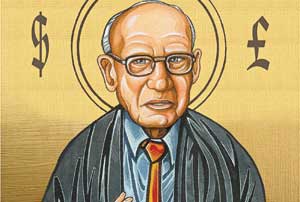 It tells you something about the enduring appeal of one Peter Ferdinand Drucker that, six years after his death a week short of his 96th birthday, hundreds of delegates from around the world were prepared to make the trip to Vienna for last month's third annual Drucker Forum. In a business calendar not exactly underendowed with conferences and grand-sounding events, the Global Drucker Forum is one that actually seems worth the effort.
But why Drucker, still, and now? For one thing, he was extraordinarily prolific, producing 39 books on different aspects of management and working right until the end. He was visionary, predicting future trends ahead of the rest (he came up with the term 'knowledge worker' in the 1960s, for example). He agreed, in advance, with the Canadian writer William Gibson, who famously declared that 'the future is already here, it's just not evenly distributed'. Drucker's take? 'I never predict,' he said, 'I just look out of the window and see what is visible but not yet seen.'
Drucker's work and insights have lasted for a number of reasons. Growing up in Vienna after World War One, he was influenced by a rich blend of intellectual figures. And he learned to be sceptical about politicians and leaders generally, as anyone who was paying attention in the 1930s (that 'low dishonest decade', as WH Auden called it) would have been. In fact he left continental Europe in 1933, heading first to England and soon after to the US, where he was to spend the rest of his life. It was here that he got to grips with modern management, almost inventing it as a category worth studying. His time spent with General Motors in the 1940s led to his ground-breaking book Concept of the Corporation (1946). And from that point, a six-decade-long career was born.