Why failure informs success
The Project Saboteur...and How to Kill Him is a light-hearted read on people who ruin things at work - but some deeper insights would have been welcome.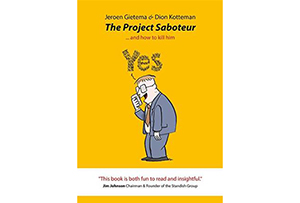 I read this book at a single sitting in an airport lounge. It is an amusing read. It is funny and wise with good cartoons and an easy style. It is about office politics in the project management world, written by two people who have 'been there and done that'.
The idea is that failure informs success: that you can learn a great deal from those who sabotage projects compared to those who lead successful projects. It moves between cynicism, scepticism and parody. The aim, I believe, is to show how studying the behaviour of various saboteurs in the business might help those who want to lead a successful project.
It is a short book (148 pages) with 10 chapters looking at the sabotaging director, project manager, user, specialist etc. Most chapters have tips for what to do to sabotage a project. But many of these are bland and very general: 'start meetings before anyone is present'; 'make sure the plan lacks any sort of cohesion'; 'select project members of an indifferent level'; 'do not involve all interested parties in the project'; 'never understand the designers and the specialists'; 'make excessive demands'; 'be incomplete' and 'create vagueness in the organisation'.