Why the fuss about MPC criticism of Mervyn King?
So it turns out some of the MPC disagreed with the Governor's approach. Isn't that why you have a committee?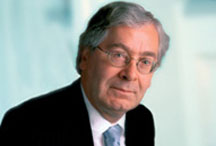 Yesterday's suggestion by Adam Posen, a member of the Bank of England's Monetary Policy Committee, that Governor Mervyn King went too far by appearing to endorse the Coalition's cuts has caused quite a storm; some are even suggesting that the Governor's credibility has been fatally undermined. Obviously a truly independent central bank needs to be politically impartial to be effective. But even if you accept that the offending paragraph does count as an endorsement (which is debatable), should we really be that concerned if the MPC wasn't entirely unanimous on the issue? After all, if they all had exactly the same opinions, there'd be no point having nine of them...

Posen, who was appearing in front of the Treasury Select Committee, suggested that some of the language used in the May Inflation Report was 'prejudicing the impartiality of the Bank' and 'could be seen as excessively political in the context of the election'. He wouldn't specify which bit, but most commentators seem to think it's the bit where he says: 'A more detailed and demanding path for fiscal consolidation than set out in the March 2010 Budget may ... be needed to avoid unnecessary increases in the cost of issuing public debt.' Posen's argument seems to be that this looked like an endorsement of the Coalition's fiscal policy (an area that doesn't fall within the Bank's remit) at a time of great political uncertainty.
But is it, really? It's not exactly an explicit congratulatory slap on the back for George Osborne. King's words could just be taken as saying that the pre-Election budget didn't go far enough, given the reaction of the markets. It's not easy for the Governor to disinentagle monetary policy from fiscal policy altogether, because both affect and are affected by what the markets think.
The uproar about Posen's comments seems to be on the grounds that it reveals a damaging split in the MPC - the suggestion being that King rules with an iron rod, brooking no objections. But we reckon it just shows that if you have a committee of nine strong-minded economists, they won't always agree with each other - particularly when the siutation is as uncertain and unprecedented as it at the moment.