Why Google keeps taking selfies
Google Street View has gone into a number of museums to bring art to the masses - only to end up taking weird pictures of itself.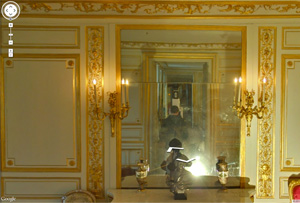 Our Tumblr of the Week award (an award which, admittedly, we just invented) goes to The Camera in the Mirror, which has started documenting Google's strange habit of taking selfies.
That's because its Street View cameras has been let loose in a load of art galleries - and it keeps catching itself in the mirror. It's kind of like a creepy version of Where's Wally, only with a load of weird guys in suits instead of Wenda...