Why having less isn't good for you: Scarcity, by Sendhil Mullainathan - review
Being short of time or money isn't just stressful, it also makes for unexpected and irrational behaviour. Maybe, but reviewer DeAnne Julius wanted more evidence.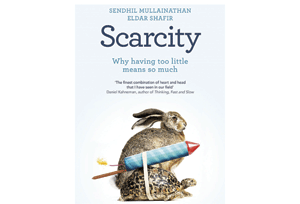 Scarcity: Why having too little means so much
Sendhil Mullainathan and Eldar Shafir
Allen Lane, £20.00
Potential readers should be warned that the title of this book may mislead. It is not about the rationale for exorbitant prices for positional goods, nor about the winner-takes-all nature of scarce talents in a global marketplace.
Instead, it claims to develop a new theory of the socio-economic effects of perceived scarcity, whether of money, time or the willpower of a dieter. However, in the opinion of this economist reviewer, it fails. The book provides an abundance of anecdotes but a scarcity of evidence or new insights.