Why I'm taking 32 weeks of paternity leave
More employers should give fathers the chance to spend that precious first year with their child.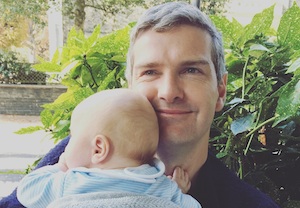 It was a small but significant moment: witnessing my young son Louis roll for the first time. It's one of those precious memories that I will always have of the early days of his life - something I'm sure every parent will understand
But it's the kind of first that many working fathers will probably miss if they only take the standard two-week paternity leave. Fortunately, I decided to take Shared Parental Leave (SPL) when Louis arrived in July.
The company I work for, Accenture, has a very progressive SPL policy that allows for a maximum of 32 weeks leave on full pay. I took that full allowance so that my wife Emma and I could share what we see as the joint responsibility of caring for Louis, and be together in our early days as a family. The first year of a child's life is a wonderful time that goes by so quickly, and being able to play a near full-time role in Louis' life is great.