Why John Treharne is making traditional gym chains sweat
The founder of no-frills The Gym Group tells MT how he's forcing upmarket operators to get in shape.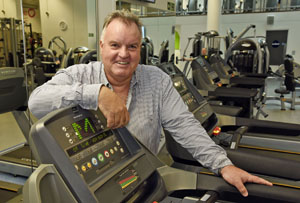 It's a Wednesday afternoon and MT is one of 50 odd people down in Stockwell's The Gym. No, we're not skiving off work to pump iron; we're here to get a first hand look at what a budget gym actually offers you these days. 'Some people have preconceptions of low-cost that it's going to be small and not terribly good. Most people that I show our facilities to are surprised by how good and how big they are,' says CEO and founder John Treharne.
Each of The Gym's 75 sites has around 200 pieces of equipment spread across some very large spaces (they've converted everything from office space to casinos and nightclubs into gyms). In January it surpassed 400,000 members and revenue for this year was up 31.9% to £60m after the company opened 19 new gyms in 2015 and had a successful IPO on the LSE late last year, where it was valued at £250m.
Treharne launched The Gym in 2007, backed by Bridges Ventures, after running a health club chain in the 90s. A former squash player for England, he'd always had an interest in leisure, but noticed the UK health and fitness market (one of the most expensive in the world) had become stagnant. It's currently worth around £4.3bn.