Why Jung still matters
Carl Jung's ideas have become such an integral part of business that many don't realise they were his in the first place. From branding to psychometric testing, to the meaning of work, Jung was there first.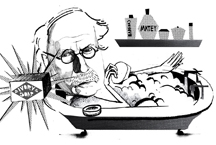 This month marks the 50th anniversary of the death of Carl Jung, the father of modern analytical psychology. Second only to Freud in terms of his importance as a psychologist of the 20th century, Jung invented concepts such as the extroverted and introverted personality types. He is the greatest theoriser of that frequent workplace experience, the midlife crisis, and also developed more controversial notions such as that of archetypes.
Born on 26 July 1875 in the village of Kesswil in northern Switzerland, Jung studied medicine at the University of Basel and served as an army doctor during WWI. Fascinated by the nature and function of the unconscious mind, he was at first heavily influenced by Freud, but the two fell out over Jung's conception of a shared and heritable 'collective unconscious'. A prolific writer, after his death on 6 June 1961 his collected works amounted to some 19 volumes.
Jung's ideas, like Freud's, have been sifted for competitive advantage in the business world. 'His system has helped many corporations understand who they are, what their core identities are and how they should portray themselves to the wider public,' says Marc Gobe, author of Emotional Branding. 'It has helped designers create ideas based on a better understanding of people's dreams and emotions.'