Why the Lehman restructuring could take a decade
MT chats exclusively to PwC's Tony Lomas, the man in charge of winding up Lehman's UK arm...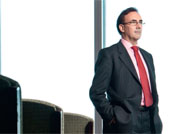 For our 'Black September' feature in the November issue of MT, we caught up with Tony Lomas, chairman of PwC's UK Business Recovery Services, who in September was appointed as administrator to Lehman Brothers International (Europe). He tells us about his experience so far - and warns that the mess could take 10 years to clear up...
'I got the call on the Saturday night, 13 September, to come to the board meeting Sunday lunchtime. At that meeting, I was told to begin at eight on Monday morning – from a standing start. The only thing I've done that was in any way analogous to Lehmans was winding up Enron's European business. And you'd have to scale it up many times to get this level of complexity. But that's the closest analogy anybody in my profession would have.
We've got 200 people from PWC in here, and we'll have a significant presence for a serious amount of time. The process of agreeing claims here is going to be far more complex than in any other significant insolvency, just because of the complexity of the relationships Lehmans had with all its counterparties. The whole project could well last 10 years.