This is why London is more business friendly than New York
London hosts 40% of European headquarters of the world's top companies. New York is home is to 25% of North American equivalents.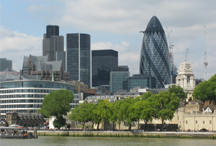 Of the 250 biggest companies in the world with a European HQ, two in five have bases in London. That compares to just 8% in Paris, 3% in Madrid, and 2.5% in Amsterdam and Brussels respectively.
London is also the chosen centre for 60% of the non-European companies in the top 250 that have their regional headquarters in Europe.
The research by Deloitte suggests that London has a more powerful status than New York has in North America, as the Big Apple is home to just 25% of North American regional headquarters of the top 250 companies.