Why London's black cab protest against Uber is pure protectionism
Causing congestion chaos isn't going to win cabbies any friends and is pointless anyway - Uber and its sharing-economy ilk are here to stay.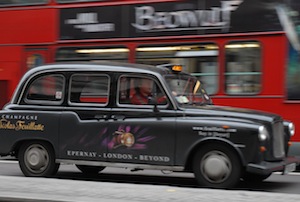 - Read MT's feature on the sharing economy
Any company that jerks established businesses out of their comfortable stupor is bound to cause upset, but private hire car app Uber has provoked veritable hysteria across the world - in the likes of Paris, Berlin, Miami, Vancouver, New York etc - among cab drivers who are notorious for protecting their lucrative turf.

Now, taxi driver tantrums are coming to London, with cabbies planning to create gridlock on London's streets in June in protest against the app. The Licensed Taxi Drivers Association's particular gripe is Uber's drivers using a smartphone app to calculate fares, despite it being illegal for private vehicles to be fitted with meters.

But Transport for London is (for once) staying out of the fray, arguing the lack of a direct connection between phone and vehicle means using data about journey time and distance isn't illegal. The taxi drivers, unsurprisingly, aren't impressed.

'I anticipate that the demonstration against TfL's handling of Uber will attract many many thousands of cabs and cause severe chaos, congestion and confusion across the metropolis,' LTDA general secretary Steve McNamara told the BBC. McNamara either hasn't been paying attention to commuters' attitudes to tube strikes or doesn't give a fig what Londoners on the capital's roads think.

'Transport for London not enforcing the Private Hire Vehicles Act is dangerous for Londoners,' McNamara added.

Taxi lobbies regularly trot out this line: regulation keeps those in need of a ride safely wrapped in cotton wool. For a start, this ignores the human ability to make decisions for ourselves. It also conveniently neglects Uber's safety features: you can see the name and a photo of your background-checked driver before they arrive, approved friends can track your journey on a live map and you can get an email of the route taken afterwards (which also means you can get a fare reviewed if you think a driver went round the houses).

The regulation may be rubbish or just outdated. 'Companies such as Airbnb and Uber have caught old fashioned regulatory frameworks by surprise, and given that these kind of companies are not going to go away it makes sense for the regulations to adapt to a changing market and changing customer expectations,' an IoD spokesman told MT.

'The rate of digital innovation will only increase, and protesting about change is not the best way to deal with it.'

That eminently sensible sentiment seems, however, to be falling on deaf ears around the world. Cities from Miami and Vancouver have laws keeping Uber out, while in Paris' unionised taxi drivers smashed up the service's cars in January, continuing in that grand French tradition of measured protest.

Across the border in Brussels, a court decided last month that Uber drivers will get a €10,000 fine for every passenger they pick up. The city's regional transport minister Brigitte Grouwels described the company as arriving 'like cowboys'. 'Rules are meant to be followed,' she added, sounding like your least favourite schoolteacher.

Uber, which takes a cut of around 20% of a driver's fare, does have a cheerleader in the EU capital in the form of European Commission Vice President Neelie Kroes, who is responsible for the EU's 'digital agenda'. 'This decision is not about protecting or helping passengers – it's about protecting a taxi cartel,' she wrote in a blog, adding her staff use the service to 'stay safe and save taxpayers money'.

MT doesn't often find itself agreeing with bureaucrats, but in this case Kroes is spot on. Taxi drivers are engaging in protectionism against Uber, plain and simple. Their efforts are a bit like trying to sand to plug a hole in a dam though. Digitally-driven and, dare we say it, disruptive services like Uber and room rental platform Airbnb (the so-called 'sharing economy') are here to stay and there's very little angry cabbies can do about it, save for upsetting London's already-beleaguered commuting classes off by blocking roads.