Why lower VAT could cost businesses money
The Government has high hopes for its VAT cut - but will it actually make life more difficult for SMEs?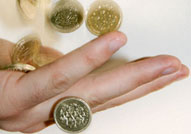 The Government's move to cut VAT to 15% - albeit only for 13 months – was the most significant (and most publicised) aspect of the £20bn spending spree announced in Monday's Pre-Budget Report. But even if you accept that this will indeed stimulate more consumer spending (and lots of people think it's too small to make any difference) it may turn out to be bad news for small businesses – another group for which the Chancellor has been loudly trumpeting his support...
The new rate of VAT will kick in almost immediately (Monday, to be precise), and this brings obvious practical difficulties. 'Although changing the VAT rate from 17.5% to 15% within business systems is relatively easy, it has widespread implications inside the organisation, across the supply chain, and for the customers,' says Angela Eager of the Butler Group. The administrative cost and hassle will be huge – retailers have less than a week to change their price lists and re-label all their stock, while restaurants will have to redo their menu cards.
Then there's the back end to think about. Retailers will presumably have to think about all their supplier contracts, while pre-agreed deals may have to be renegotiated. They'll also have to change all their IT, accounting and ERP systems – and though you might assume that this shouldn't be an insurmountable IT issue, we wouldn't be surprised if it turns out to be unnecessarily complicated in practice.