Why luck sometimes beats hard work
EVERYTHING YOU KNOW ABOUT BUSINESS IS WRONG: It's not keeping your nose to the grindstone that matters. Sometimes randomness or chance is the reason why we succeed.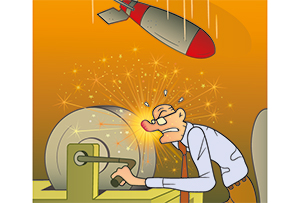 Going the extra mile. Giving 110%. Pulling an all-nighter. Whatever your cliché of choice, it's axiomatic in today's hyper-competitive business world that success means keeping your nose to the grindstone and being ready for every eventuality. Slackers never win the race.
It sounds good, but is it true? Not really. Firstly, however hard you work and however carefully you prepare, you simply cannot account for every possible event that might come to pass. Real life is not like that - as they say in the army, even the best plans don't survive the first contact with the enemy.
Secondly, it doesn't allow for what mathematicians call randomness - blind chance, or luck if you prefer. The things you can't discover any other way because until you find them you have no idea what you are looking for, like penicillin and the Post-it note.