Why nationalisation won't fix the railways
Comrade Corbyn makes gradual re-nationalisation official Labour policy, but it's not a fix-all solution.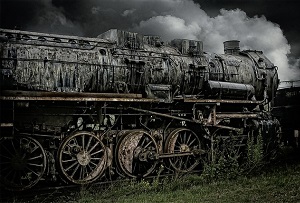 The 1970s are clearly underrated. So what if there was bland food, an unhealthy addiction to brown flares and the odd day lost to strikes? There was Bowie on the radio, Fawlty Towers on the TV and the mighty hand of the state gently guiding British industry. Motivated perhaps by nostalgia for these good old days, Labour leader (we're still getting used to that) Jeremy Corbyn has outlined what will be his first official policy – the renationalisation of the railways.
Speaking to the Independent, Corbyn said that if he becomes PM (current odds 7-1, believe it or not), the state would assume control of private rail franchises as they expire, meaning a third of the network would be in public hands by 2025.
'We know there is overwhelming support from the British people for a People's Railway, better and more efficient services, proper integration and fairer fares. On this issue, it won't work to have a nearly-but-not-quite position. Labour will commit to a clear plan for a fully integrated railway in public ownership,' Corbyn said, ahead of the Labour conference in Brighton next week.