Why we need a new deal for the public sector
The authors of The Public Wealth of Nations have some novel ideas for making state-owned assets perform more efficiently, but will they work in practice?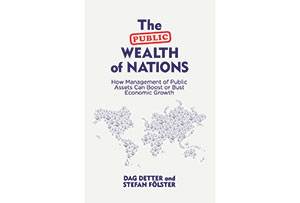 Public sector assets are mostly not managed well. In Russia and Indonesia state-owned enterprises are vehicles for theft by the rulers and their relatives and friends. In Greece these businesses have been mechanisms of political patronage. The close relationships between large companies and governments in North America and western Europe while less overtly corrupt are unhealthy, and are now far more extensive as a result of outsourcing traditional public sector functions. Britain has today a suite of companies better at winning government contracts than executing them.
At the formation of the National Health Service, Aneurin Bevan (probably apocryphally) claimed that 'the sound of a dropped bedpan in Tredegar Hospital would reverberate around the Palace of Westminster'. But, as events have shown, such political attention to day-to-day operational matters is not in the best interests of consumers, employees, or the politicians themselves. Centralisation undermines individual responsibility - was the dropped bedpan the fault of the nurse or the minister? Decentralisation, while appearing more democratic, opens opportunities for capture by interest groups, most often public sector employees.
But it is easier to list problems than define solutions. Detter and Fölster argue that we should account for public sector assets as if the state was a private company, commending Britain's lead in producing 'whole of government accounts' that set out a national balance sheet. But what is the value of the London Underground network, the M1 or the pictures in the National Gallery, or Stonehenge? And what purpose is served by even asking the question?