Why networking represents everything that's wrong about business
Networking is inauthentic - real business relationships can't be taught, argues Dominic Hiatt.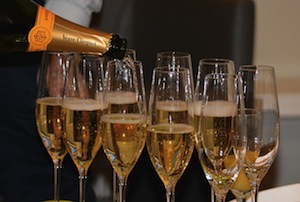 There's something about the words 'networking' and 'professional networkers' that makes my skin crawl. Scrap that. Both fill me with what I can only describe as an existential terror.

For me, the very idea of networking, of 'linking up' or 'connecting' with someone else, encapsulates everything that's wrong about business — actually, humanity — today. Networking is the apotheosis of the inauthentic. In fact, it represents the point at which authenticity ends. The more we network, the less we communicate. Networking is, quite simply, a form of death.

For the French cultural theorist, Jean Baudrillard, we live in an age of simulation, where reality has been replaced by 'copies' of reality. Nothing reflects this copying process more than the substitution of basic human communication (an eternal given) for networking, something that, for all intents and purposes, merely duplicates it.

Networking is a form of interaction where everyone talks but nothing is said, where relationships form and people communicate but remain incommunicado. People can sense this alienation, too. As I was writing this article, I tweeted that I'd rather chew on a vial of cyanide than attend a networking event. Someone promptly replied that the only network they want to be plugged into is the National Grid. People can see networking for the vile capitalist narrative that it is — and it repulses them.

Now, of course 'real-world' business relationships do form, and many endure— after 'reaching out' on LinkedIn, say, or attending a networking event. For Baudrillard, reality goes on even in its own absence. But the most successful business relationships are those built on a bond that is far deeper, far more authentic, than that to which a piece of 'networking activity' could ever lay claim.

The strongest business relationships result from an emotional, non-linguistic, unspoken bond between two or more people that is built, not only on the provision of a product or service, but on gut instinct. It's certainly not something that can be written on the back of a business card or shared via a LinkedIn update. What is human cannot be articulated.

If there's one thing that's even more absurd than the concept of networking, it's people being taught how to network, people being taught how to be social, human beings being taught how to be human.

The truth is that the only way to be any good at authentic communication is to be true to yourself, however introverted, unsure or even deviant (works for me) you may be. If you want to build a business on any kind of stable foundation, you need to be what you are, not what others want you to be — even if the person you are is socially awkward or unsure.

Why? Because you are operating at the level of the human. And any authentic people in business today — they do still exist — will value this humanity more than anything else.
Dominic Hiatt founded PR firms Rhizome and Just In Time and is a director at The Radical Social, which describes itself as 'not a social media agency'.