Why Nick Leeson couldn't out-Shred Fred
'I'm not that bad a person, really', says Leeson, almost 20 years after he brought down Barings Bank.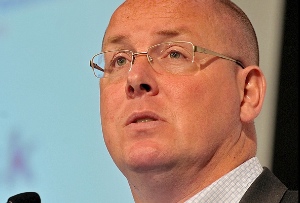 It's been almost 20 years since Nick Leeson's name became a byword for dodgy bankers. A young, over-paid and over-ambitious trader at Barings Bank's Singapore office, Leeson dug himself into an £827m hole, fled to Hong Kong and was sent to prison as Barings was brought to its knees.

Following a five-year stint in jail (and a shorter one on Celebrity Apprentice - the jury's out as to which is worse), Leeson has moved from infamy to notoriety, releasing an autobiography and a biopic in which he was played by Ewan McGregor.

Now settled in Galway with his second wife and their two kids, Leeson has landed at GDP Partnership, a Dublin-based insolvency practice. Alongside that, for reasons that are obvious, over the past few years he's had a nice sideline in after-dinner speaking. Today, I meet him at an information security event organised by NTT Com Security. When I enter, Leeson is halfway through his speech, laughing self-deprecatingly at his antics. The audience is laughing along with him. It's hard to believe this is the man who brought down Britain's oldest merchant bank.

What does Nick Leeson have to do with information security? 'Risk management,' says Garry Sidaway, director of security strategy at NTT Com. 'Information, no matter where it is, is valuable. Nick's experience demonstrates that.'

It's interesting that, since the beginning of the recession, Leeson's name has cropped up again and again, in connection with various scandals. Nothing information security-related, as far as I know, but he's been compared with the likes of Fred Goodwin (who, I should add, has never faced criminal charges), who presided over RBS as it needed a £20bn bailout from the government and Bernie Madoff, who committed 128 instances of fraud. Leeson, though, was a trader: he was buying and selling futures contracts on the Japanese Nikkei 225.

Could Leeson out-shred Fred? I doubt it. By all accounts - his own included - Leeson was a bumbling idiot. Goodwin, on the other hand, was a megalomaniac whose primary concerns included preventing his workers from stacking papers on top of filing cabinets by installing ones with rounded tops and ensuring RBS' latest set of chauffeur-driven Mercedes exactly matched the colour of its logo.

Since Goodwin's reign came to anachronistic end, banks have been emasculated: harsher capital requirements, extra regulators and general closer oversight have conspired to turn investment banks in particular into shadows of their former selves. Changes at the top symbolise their attempts to look cuddly: hardliners like former Barclays boss 'Diamond Bob' Diamond have been replaced by greige types like Antony Jenkins.

Ewan McGregor playing Leeson in Rogue Trader
Are bankers becoming more amiable? 'No!' exclaims Leeson. 'They pare down [investment banks] because of a lot of things: public opinion, the fact that they're not profitable, the fact that they have limited capital. For that reason parts of the business have to go. But I think investment banks will bulk up in the very near future. They'll be drinking Flaming Ferraris like they used to years ago.'

Since it came to power in 2010, the coalition has worked hard to restore the power of the regulators, who are seen as having been too light touch in the run-up to the downturn. In Leeson's day, trading was overseen by the Bank of England. Gordon Brown created the Financial Services Authority ('the SFA', as Leeson puts it). Now, he points out, 'we've come full-circle': responsibility for banks is back on the doorstep of the Bank of England, whose Financial Conduct Authority and Prudential Regulation Authority officially take full power in April next year.

Leeson, though, says in reality, the likelihood is that banks won't take more than cursory notice of their new overlords.

'You go through cycles,' he warns. 'We're back now in the phase where the City is buoyant, it's expanding, and there's lots of opportunity. That heralds the next problem - because people forget.

He cites emails between traders and submitters during the Libor scandal (in one particularly charming 2006 example, a money markets manager refers to himself as 'your Libor bitch!!!').

'What they exhibit is the complete contempt that a lot of bankers have for… the regulator. There's always been contempt for regulators… They play the game. You can see them playing a game. The game will be played for a while and then it will change. The regulators [need to] get real, get up to speed.'

But, I argue, look at what's going on: there's an ethics test for new bankers, the government has launched a Sharia bond - even the Archbishop of Canterbury is wading in on the debate. Surely the City has discovered a new, squeaky clean side?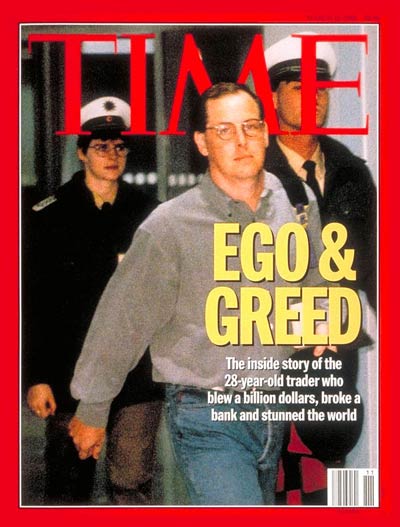 Nope, says Leeson. 'Bankers will pay lip service to whatever's going on, but their primary motivation is profit. It's a very competitive environment, both within the organisation, bank to bank, financial centre to financial centre. That's never going to change. Banking will always be banking.'

The ethical side of it is something that interests him, though. He's always been keen to make clear is that he's sorry. When he left his desk in Singapore in 1995, he left a note saying simply, 'I'm sorry'. On a BBC Radio 4 show 16 years later in which he came face-to-face with his former boss, Peter Norris, he said, 'remorse is a word that is bandied around an awful lot, but I am sorry'. Today, he says it again: 'you go through remorse and being sorry. [The debacle] remains the most embarrassing period [of my life].'

'People often ask are people born good or bad,' he says. 'I don't think they are: they're influenced by their environment. You go through that area of remorse and being sorry, but if you're going to give it a go, you have to arrest that type of behaviour quite quickly, because there were times in prison you'd see people going through the same sort of thought processes and they look for the sharpest corner of the room and they bash their head off it.'

It's clear, though, that Leeson feels he's atoned for his sins.

'To sum me up, I'm not that bad a person, really. And if you ask my friends and family, they would certainly support that assertion. It was just a series of mistakes.'