Why the Olympics won us more than just medals
A report out today says London 2012 could contribute up to £41bn to the economy by 2020. Although it's hard to attribute exactly how much of that really came from the Games...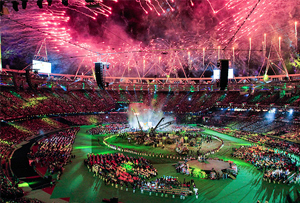 It's almost a year since the explosive, star-studded opening of the Olympic Games, and a new government report has sought to point out how wonderful everything has been since then.

The Games have contributed £9.9bn to the economy in the form of international trade and inward investment, it suggests – and by 2020, that figure will have risen to somewhere between £28bn and £41bn. Considering the Games cost about £8.9bn to host (that's including all the construction costs, etc), that means the Olympics made a net contribution to the British economy.

The report's headline figures are impressive: apparently 1.4 million more people are playing sport once a week than they were when London won the bid in 2005; the future of all eight Olympic venues have been secured; the government has invested £6.5bn in transport developments and more than 11,000 homes are planned on the Queen Elizabeth Olympic Park, creating more than 10,000 jobs. There's been a 1% increase in international visitor numbers to the UK, and a 4% increase in what they're spending: this year for the first time, tourists to the UK will spend £19bn.

West Ham football club will pay £15m to take over the Olympic stadium, and £2m a year in rent.
Of course, the naysayers will not be silenced: there's an argument it's impossible to say for sure that the £9.9bn wouldn't have been invested anyway – and the claim about the number of people participating in sports is debatable, too. Although it's true that 1.4 million have taken up sports since 2005, that figure has dropped by 200,000 since last year (perhaps people gave up after they realised they'll never have the abs of Jessica Ennis).

Still, it's hard to have too much of a downer on the Olympics. Andy Murray's Wimbledon win kept MT going for a few days and the nice weather is great – but two weeks' unbroken sunshine is fleeting. Olympics nostalgia is for life…

- Next week is 'One year on' week on MT. Check back for a celebration of all things sporty – including interviews with local business owners and a look at the Games' legacy in London and beyond….