Why personal emails are critical to office stress levels
Could personal emails be a valuable coping mechanism, rather than a waste of company time?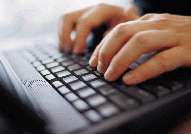 Many employers may consider it time-wasting, but personal email is apparently crucial to helping Brits get through the day. Research by email service GMX found that 69% of UK workers deal with personal email while at work (we suspect a good proportion of the other 21% just didn't want to admit it). And while it's not unreasonable for bosses to resent company time being used to arrange the weekend's social schedule, the survey suggests the gains could actually outweigh the disadvantages. One in three workers claims that receiving personal emails at work provides much needed relief from the stresses of office life – whether it's getting an emotional boost from a friend, or reminding yourself of the world outside your cubicle. In other words: personal email is good for you…

Most people need the occasional distraction from work – as MT contributor Alistair Dryburgh has pointed out, it's not possible to work at full throttle all the time – and a quick read of emails that don't have anything to do with reports and deadlines seems like a pretty harmless way of getting that. Like it or not, employers have to accept that most employees are going to have periods of 'dead time' where they don't focus on work. As long as email checking really is just a light break, it's probably not worth being too heavy handed about it.

However, we couldn't help noticing that according to the report, some employees want to check personal email because they feel overwhelmed by the sheer volume of it. More than half indicated they were more concerned about their personal inbox than their work one, and less than a quarter reckon they could handle getting more emails than they currently receive.

OK, so it's hard for the likes of MT to imagine a level of personal popularity that would yield an overwhelming number of emails. And we're all for helping staff to manage stress better. But we can't help feeling that if people are getting to this stage, personal email is becoming an obsession rather than a healthy distraction/ useful coping mechanism. In which case maybe hard-line opponents have a point...

In today's bulletin:
John Lewis and Samsung inject some pre-Christmas cheer
WPP's Sorrell: LUV is in the air
France Télécom throws €1bn at its stress problem
Why personal emails are critical to office stress levels
Trust your instincts, with YouTube