Why Peter Drucker is one of our most influential management thinkers
To mark 50 years of MT, here's the first in a series looking back at the best business brains since 1966.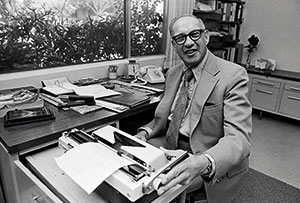 Managers get a raw deal these days – the 21st century is all about being a leader, an entrepreneur, an innovator, a disruptor. No one with an ounce of ambition wants a job title with the 'M' word in it any more. Which is a shame because, as the works of Peter Ferdinand Drucker – perhaps the first, certainly one of the most influential management thinkers – show, the discipline may be unfashionable but it still has a great deal to contribute.
Drucker – who practically invented management as a subject worthy of academic study – was a kind of organisational ecologist. A pragmatic thinker more interested in people than things, he preferred 'looking out of the window to see what was visible but not yet seen' to espousing clever-sounding theories.
Born in Vienna in 1909, Drucker escaped to Britain in 1933 and lived most of his life in America. He came of classic liberal intellectual stock – his father was friends with the economists Joseph Schumpeter and Friedrich Hayek, whose ideas influenced the young Peter and at the same time set him on a rather different path. 'I was more interested in the behaviour of people than the behaviour of commodity prices,' he once said.