Why RBS chairman Howard Davies opposes Brexit
WATCH: The former Airports Commission chair on Heathrow, Brexit and the future of work.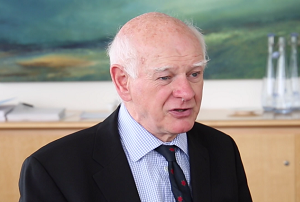 Few people have seen as many corners of public life as Howard Davies. From running the CBI and then the Financial Services Authority to chairing the government's Airports Commission, and now RBS (not to mention being MT's diarist...), he's kept himself busy.
MT's editor Matthew Gwyther sat down with Davies for a chat that spanned everything from Brexit to airports and the future of work. 'My principal reasons are more political than economic or financial,' he says of his decision to oppose Brexit (on a personal level; RBS is officially staying out of it). 'I think that most of the big issues this country faces – climate change, terrorism, the problems with the middle east, migration, dealing with a resurgent and sometimes dangerous Russia, just to take five off the top of my head, none of those is susceptible to a one nation solution.'