Why Sainsbury's wants to buy Argos
The supermarket hasn't given up on its dream of creating a giant super-retailer.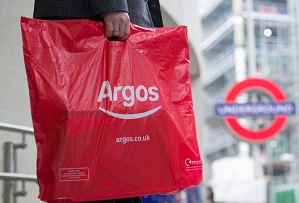 After Morrisons surprised the markets with a better-than-expected update yesterday, we've had similar news from its fellow supermarket chain Sainsbury's this morning. While its same store sales in the 9 weeks to January 9 dipped by 0.4%, its total revenues were up by 0.8% over the same period.
It's hard to say if investors were pleased with that. Sainsbury's share price has had a bumpy time this morning, opening down on yesterday before shooting up, then down, then up, then down again. That likely reflects shareholder uncertainty about Sainsbury's proposed plan to buy Argos and Homebase owner Home Retail Group (HRG), which was announced last week.
The plan was rejected by HRG's board, but it seems clear that Sainsbury's boss Mike Coupe isn't going to give up without a fight. Though he declined to confirm whether a second bid is in the offing this morning, the supermarket has just published a colourful Powerpoint presentation outlining in detail why it thinks the deal would make sense.