Why shouldn't Northern Rock boss get another chance?
Former Rock boss Adam Applegarth has quietly taken a job at private-equity firm Apollo. And why not...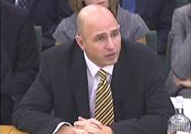 Given that rich bankers still seem to be public enemy number one – at least if the Government has anything to do with it – it's slightly unfortunate for former Northern Rock boss Adam Applegarth that news has just emerged of his appointment by Apollo, a US-based private equity firm. Some people seem to think he's got a nerve taking another lucrative job, particularly with a company that specialises in distressed debt. But we don't see why he should be punished for his mistakes indefinitely – and you could even argue that he has more to offer given his experience at the Rock…

Applegarth has largely managed to escape the kind of opprobrium attracted by Sir Fred, not least because he got out fast and has kept his head down since – although the £800,000 pay-off he pocketed when he left caused a bit of a furore at the time (and explains why he hasn't been forced to rush back to work). When Northern Rock was growing like topsy back in the good old days, he was seen as one of the hottest properties in the City, but his reputation took a bit of a hammering when his strategy eventually caused the bank to collapse under its own weight.

However, he's apparently been chummy with Apollo for some time – and on paper, they look like a match made in heaven. He'll be advising Apollo's European fund, which buys up under-performing loans on the cheap – something that any former Northern Rock boss should know all about. In fact, there's already been speculation that his appointment signals Apollo's intention to bid for some of the dodgy loans that the Government is currently spinning out of the Rock into a 'bad bank'.

For those who lost a lot of money on the Rock's near-collapse, Applegarth's reappearance in a lucrative gig like this will no doubt be a bit galling – as it was when former HBOS chief Andy Hornby was hired by Boots. And clearly politicians don't think they've had their pound of flesh from the City yet – as evidenced by the recent travails of former RBS head honcho Johnny Cameron, who's been banned by the FSA from joining Greenhill and was forced to step down from a headhunter this week after it lost a lucrative Government contract. It'll be interesting to see whether Ken Lewis, who announced today that he's stepping down as Bank of America boss amid criticism of his leadership, has similar struggles.

The public anger is understandable. But we're not convinced there's anything to be gained from continuing to punish these people for their mistakes. What's more, they've been forced to learn some very harsh lessons in the last two years – and as a result, are probably better equipped to manage and lead than they were before.

In today's bulletin:
BAE threatened with £1bn fine as SFO gets tough
Asda raises the stakes in the bid for customer loyalty
Why shouldn't Northern Rock boss get another chance?
Editor's blog: The limits of online advertising
Budding green entrepreneurs short of role models